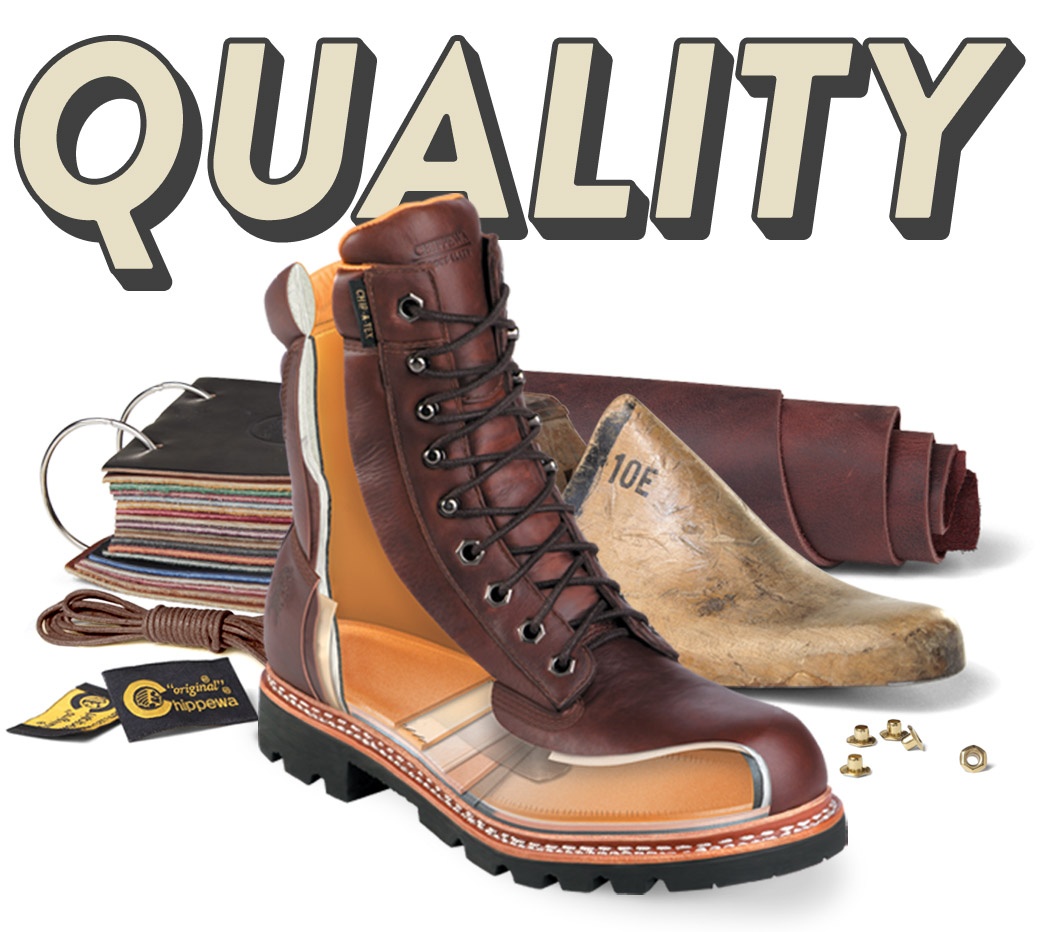 Dri-Freeze®
Electro Static Dissipative

Nano Composite Toe
Our Nano Composite Toe boots feature carbon nanotubes intricately woven together. Combined with a fiberglass resin, the technology creates one of the strongest and lightest safety toes on the market while still meeting ASTM safety standards. Carbon nanotubes also make it possible for the toecap wall to be thinner, allowing for more toe room and a more comfortable work boot.

Ortholite®
The OrthoLite® insert is made of open-cell polyurethane foam, which by nature is extremely breathable, lightweight and flexible. It also retains 95 percent of its original thickness and won't flatten over time. The insert has anti-bacterial characteristics and can easily be removed, washed and replaced.

Gardtoe™
ORIGINAL CHIPPEWA® has been producing Steel Toe Safety Shoes for over 85 years. Gardtoes™ Safety boots are designed and built to protect against the most common accidents. Extra quality of leathers and other materials, the best workmanship obtainable, comfort, proper fit and many other special features are combined with toe protection to give the workmen the utmost in value and service.
Metguard with PORON® XRD™
MetGuard™ is a thermal plastic urethane shield made with PORON® XRD™ technology. It overlays the steel box toe and runs to the top of the instep, for armor-like protection of your metatarsals. When steel toe boots alone are not enough to protect the upper part of your feet from painful injuries, you need MetGuard™.
Non-Metallic
Snake Guard

3M™ Thinsulate Ultra Insulation
Thinsulate™ Ultra insulation is loftier and thicker than original Thinsulate™ insulation for even greater warmth and comfort, yet still thin enough to allow complete freedom of movement. A mid-loft insulation, it is designed for some of the harshest conditions on earth and retains insulating value in damp conditions.

Dri-Lex®
Dri-Lex® delivers heightened comfort through a moisture management lining system that is totally breathable and quick drying.

Chip-A-Tex®
The Chip-A-Tex® waterproof membrane system is breathable. Water is locked out of the boot by the membrane shield but air passes through from the foot for maximum comfort.

Dual Guard
Solid steel plate between outsole and insole prevents nails and other sharp objects from penetrating the foot. Safety toe cap meets or exceeds ASTM F2413-11 standards for impact and compression.

Electrical Hazard
Non electrical conduction of electrical potential or magnetic charges. Safety toe cap meets or exceeds ASTM F2413-11 standards for impact and compression.

Puncture Resisting
Hazardous work environments call for top-of-the-line footwear, and stepping on a nail should be the least of your worries. That's why we pride ourselves on our puncture resistant insoles that are made from the same technology as bulletproof vests. This lightweight safety feature also complies with EN1256898, S3 ISO EN20344/20345/20346, ASTM F-2413-11 and CSA Z195-02.

Steel Toe
Steel safety toe cap meets or exceeds ASTM F2413-11 standards for impact and compression.

Composite Safety Toe
35% lighter than a steel toe cap it has no heat or cold temperature transference, non electrical conduction or magnetic charge properties. It's non rusting and non-corrosive and meets or exceeds ASTM F2413-11 standards for impact and compression.

Waterproof
Seam seal construction helps keep feet dry and comfortable.

Vibram® Outsole
Vibram® is the world leader in high performance rubber soles, targeted to the outdoor, work, recreation, fashion, repair and orthopedic markets. For more than 70 years, the famous yellow octagon that identifies our brand has been synonymous with quality, performance, safety, innovation and design.