Built and designed to be the ultimate in multi-functional footwear the Field Series appeals to both the avid sportsman and the casual wearer. It blends durability, performance, comfort and styling.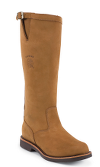 Chippewa Boots® is the undisputed leader in the making of the finest snake boots anywhere in the world. Stylish yet constructed to withstand the strikes of venomous snakes thanks to the combination of lining and outside leather thickness. Don't trust your luck to any ordinary snake boot. Ask for Chippewa snake boots.
For the outdoor sportsman who wants lightweight comfort whether walking grassy plains or rolling terrain.
Common spelling variations include chipiwa, chipawa, chippawa, chipowa, chippowa, and chippewah